Youth Programs
Victory Raceway's youth programs are committed to making science, technology, engineering and math more exciting and relevant for middle school students. Our educationally rigorous curriculum is aligned with national, state, and Next Generation Science Standards. Students learn about these critical topics from real-world engineers while zooming around the track in high-tech, electric-powered racing karts. The fast-paced lessons make STEM more fun…so these critical topics stick in the classroom!
WHAT IS STEM?
STEM is an interdisciplinary educational approach that embraces hands-on, immersive physics and engineering-based experiences and problem solving. The STEM educational approach by our youth programs includes elements from Science, Technology, Engineering and Math.


Our students will utilize Science, the study of the physical and natural world, including biology, chemistry and physics. The science of racing is explored by getting behind the wheel of a Go Kart to experiment and test force, mass, speed and acceleration. Students have the opportunity to observe the effects on acceleration when exerted force and mass are changed. They may also be challenged to create a motion graph based upon the speed of their team's race car.

Technology is the process by which we modify our world in order to better meet our needs. It's the ability to see what can and should be designed, made, and sustained from materials and substances so these needs can be met. When technology is integrated into a student's learning environment, it can enhance their assessment, engagement and interactive skills. Our Youth Programs incorporate a variety of activities that support this process.

Students will utilize their skills in Engineering by using mathematics, science and technology tools to solve real-world problems and design and develop projects. For example, students will get the chance to re-engineer one of our race cars for increased performance as well as build and test other student-made vehicles.

Students will utilize their skills in Math, the study of patterns and data to solve problems and draw conclusions using numerical, spatial and logical relationships. When calculating and graphing speed and acceleration on a straightaway and investigating tire rotation as it relates to diameter.
WHY IS STEM IMPORTANT?
STEM is important because it integrates the four primary curriculum fields; Science, Technology, Engineering and Mathematics. A STEM education is designed to equip students with the skills and knowledge to become leaders in our nation's diverse and highly competitive global economy and our complex, innovative and technology-driven society.

STEM fields lead in innovation across a broad range of industries and occupations. STEM job creation over the next 10 years will outpace non-STEM jobs significantly. Students and employees will need to utilize their STEM knowledge for problem solving in order to succeed in an internationally competitive workforce.

According to the Commerce Department, the most rapidly-growing and highest-income jobs are in STEM fields. People in STEM occupations can expect to earn 26 percent more money on average and be less likely to experience job loss.

STEM is extremely important in workforce development. Numerous educational and professional organizations have realized the importance of a STEM education and the declining levels of education in STEM fields for the U.S. Sixty percent of the new jobs that will open in the 21st century will require skills possessed by only 20 percent of the current workforce. The U.S. may be short by as many as three million high-skills workers by 2018.
A STEM education allows students to think critically and strategically, which enables them to investigate and make new connections between certain aspects of the world. For more information about STEM, contact us today.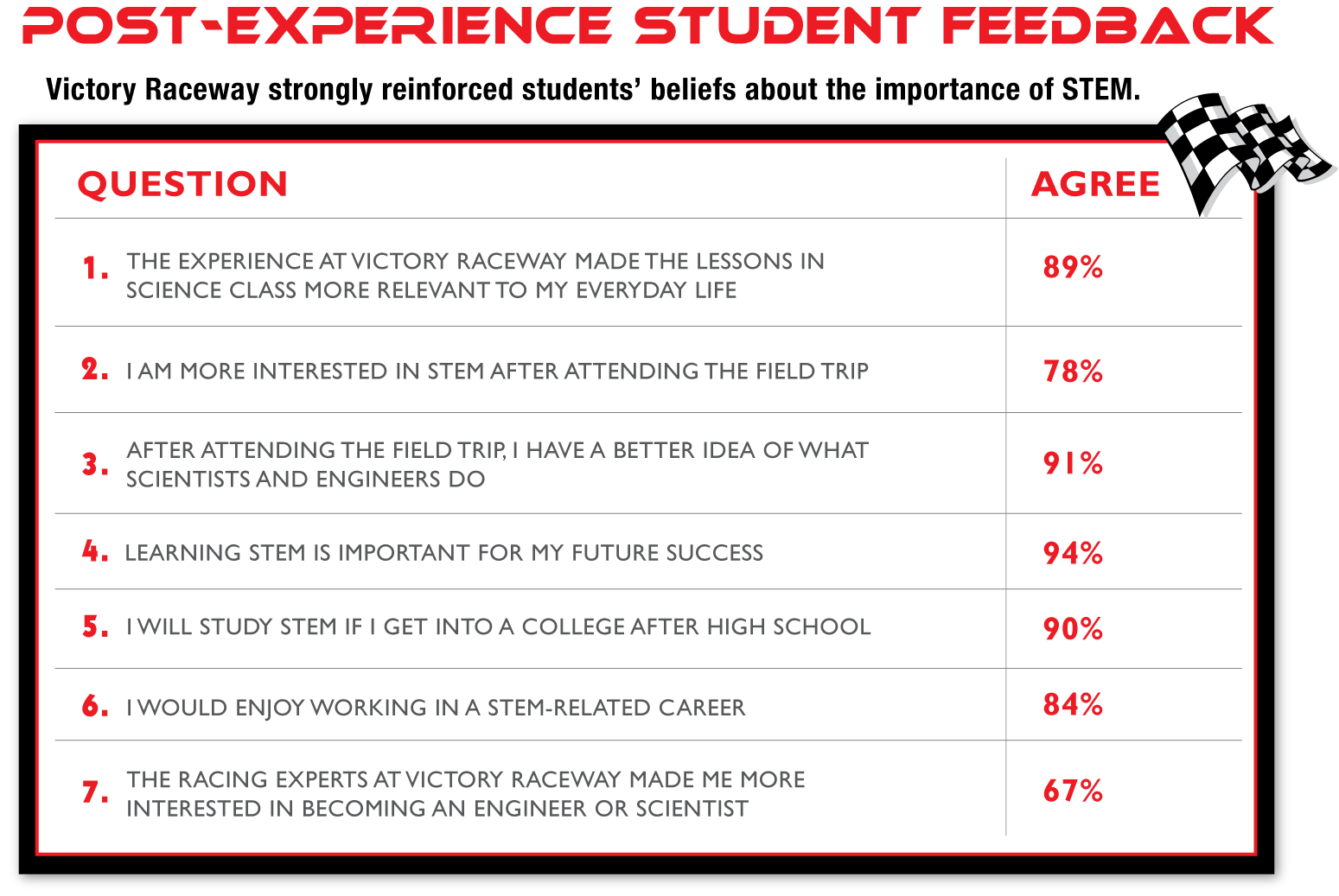 TESTIMONIALS

"The lessons were well-designed and aligned to the Missouri Learning Standards, and the activities really engaged our students. It was a very purposeful field trip with real-life connections for students." - Jennifer Waters Asst. Superintendent of Curriculum and Instruction for Fort Zumwalt School District
"This makes me want to pursue a career in STEM or as a race car driver – it was a great experience!" - Taylor Student
"Out of all the field trips I have ever taken, this was the best. Thank you for making this so cool." - Zach Student
"This is the most fun I've ever had in school." - Steven Student
"This field trip gave us an opportunity to understand that what we learn in class really does apply to our future jobs." - Mahima Student
"It's rare when both students and teachers have a good time! Usually students just watch but at the Academy of Racing Science they're able to participate in real world physics. I'm already looking forward to next year so we can do it again!" - Danny Bethman 8th Grade Teacher at DuBray Middle School