Summer Camp 2021
Our 5-day camps are all about racing, fun and learning. For the first half of the day, kids get to race around the track learning basic principles like "the line," acceleration, braking, & race craft. After a provided lunch, the kids will build, program and run experiments using Lego Mindstorm Robots with the EV3 Software platform.
LEGO MINDSTORMS Education EV3 engages kids in Computer Science, Technology, Engineering, and Math. Campers will build, program, and test their solutions based on real-life robotics technology. Campers will be introduced to robotics with a very current and real-world theme -- traveling to and living on Mars! Campers will work as scientists and engineers as they progress through the Space Challenges that fully integrate science, technology, engineering, and math concepts while promoting creative problem solving, communication, & teamwork.
ALL WEEKS ARE SOLD OUT
To be put on a wait list in case a camper were to cancel, please email jordan@kartingstl.com the week you want, and how many campers you would need to sign up. This list is first come, first served.
Drop off between: 8:45am - 9am
Racing and Instruction: 9am - 11am
Lego Robotics: 12pm - 3pm
Pickup between: 3:00pm - 3:15pm
Ages: 8-12 (*July 12-16 week will be ages 8 - 16)

Must be 50" tall to race

Camp is held 9am-3pm daily. Before and aftercare will be available from 8am - 9am, and 3pm - 5pm at $15 per hour.

Lunch, snacks and drinks included. Snacks may be brought from home.
Cost:
$375 per week
9am-3pm daily. Before and aftercare will be available from 8am - 9am, and 3pm - 5pm at $15 per hour.

You can find information about our COVID-19 health and safety protocols for camp below.
Prepayment for camp is required to finalize registration. Parents can register their kids online at the links below.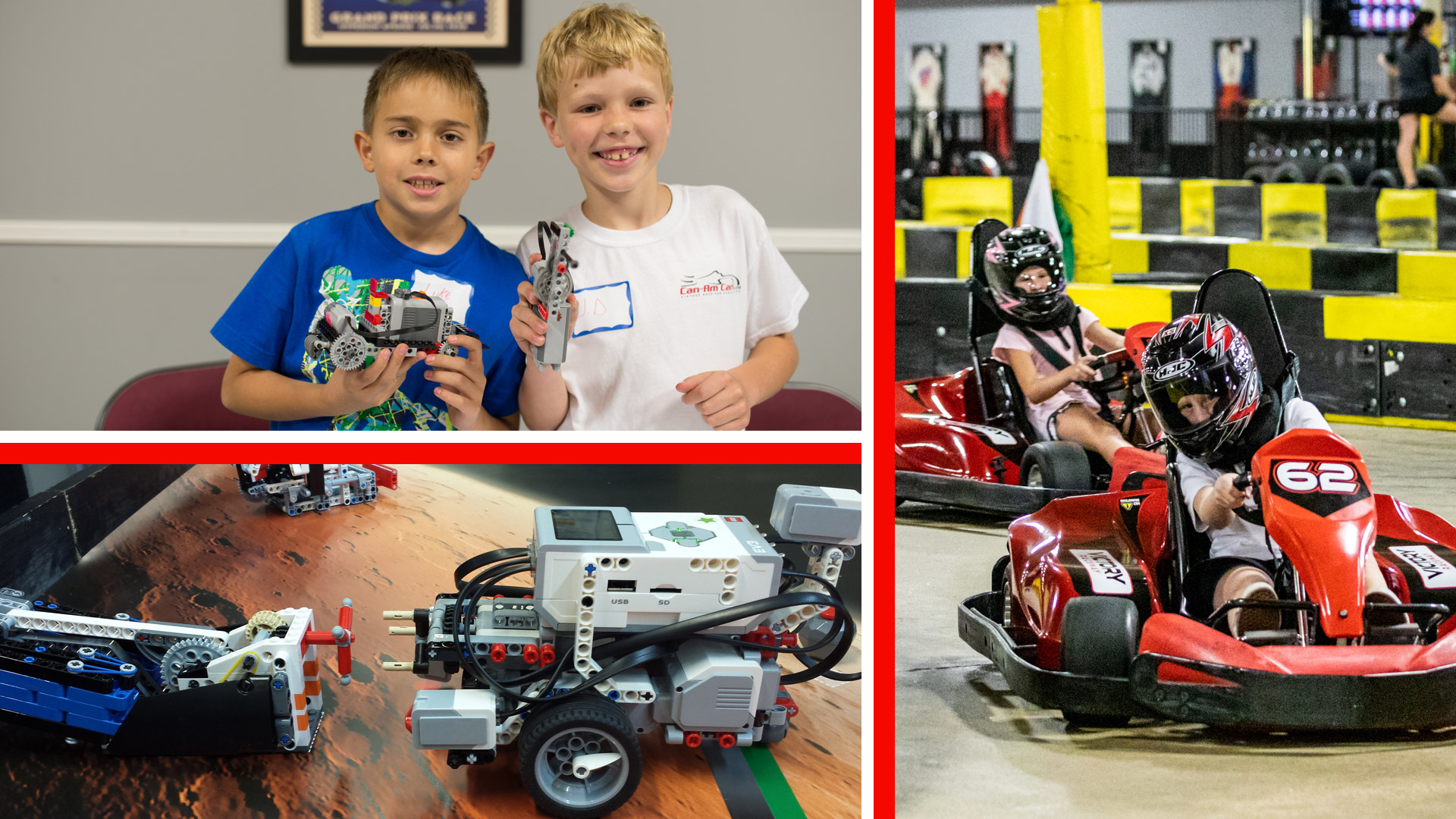 COVID-19 HEALTH & SAFETY CONCERNS
Your child's safety remains our number one priority. Victory Raceway adheres to all CDC, local and state guidelines including, limiting attendance to a small portion of our capacity to allow for social distancing and requiring all staff as well as visitors to wear masks. Hand sanitizer is laced throughout the building and staff members are cleaning continuously throughout all public hours.
An inherent risk of exposure to COVID-19 exists in any public place where people are present. COVID-19 is a very contagious disease that can lead to sever illness and death. According to the Centers for Disease Control and Prevention, senior citizens and visitors with underlying medical conditions are especially vulnerable.

St. Louis County has issued public health orders requiring all individuals to wear a face mask or covering at all times when in indoor facilities and outside when social distancing is not possible. All guests & customers in our facility are required to wear a face mask or covering properly at all times when in indoors in a public space (with the exception of wearing headsock/helmet when racing) as mandated by St. Louis County. All campers will be required to wear a face mask or covering when here for camp. Please visit StLouis-MO.gov for more information.
We are limiting the amount of campers to a maximum of 12 to be able to properly social distance. Campers will have assigned seating, with 2 campers per 8 foot table at opposite ends. These assignments will be made the first day of camp based on who wants to sit with who. Campers will also have assigned cubbies to keep their helmet and other belongings for the week.
We will have pre-packaged lunches (except for Domino's). When campers are checked in, they will select 2 snacks to go with their lunches for that day plus an afternoon snack. Plates will be prepared by a camp instructor, which includes them wearing a mask, gloves, and hair net.
Signing campers in and out: When you arrive at our location, please pull up to the front doors where you will be greeted by camp instructors. Please make a line if there is a car ahead of you. On the first day you will complete a Health Screening for each of your campers. We will take your campers temperature using a non-touch temp gun every morning upon arrival. We will record this on your campers sign in and out sheet. Each camper will have their own clipboard with the sign in/out sheet to prevent multiple parents from touching the same surface. You will fill out the parent name, signature and time in. The same will be done upon pick up. ONLY those listed on the pick up portion when you registered will be able to pick up. If you need to add anybody, please let me know. When you arrive for pick up you will not enter the building. We will do the same thing for pick up as we did for drop up. Park at the front doors and we will meet you. Please form a line of cars if needed and we will do one by one.


Here are the Health Screening questions that parents/guardians must answer truthfully upon arrival. If none of these stipulations can be met, please consider another week. This is for the safety of all the staff and campers!
My child has not been around anyone with any of the listed symptoms or diagnosis of COVID-19 in the 14 days before the start of camp.
No one in our household has been sick in the 14 days prior to camp.
My child has not traveled by air or traveled out of state in the 14 days prior to camp.
My child has adhered to our state's guidelines regarding COVID-19.
We have shared specific instructions with our employees on the importance of washing their hands and staying home if they feel sick. In the past we have always had hand sanitizer stations throughout the camp area, and that will continue on with frequent reminders to campers to sanitize their hands. Each camper will be assigned a small cubicle for the week to store belongings, as well as a sanitized helmet, full-face head sock and neck brace so they can use the same equipment all week long. While there will be some shared items, most activities will be individual now instead of working in pairs or teams. Every camper will have their own robot to build. The only shared items will be laptops and iPads, which will be disinfected between users. Steering wheels of the karts will be sanitized after each race, as well as disinfecting STEM equipment as campers rotate through the stations in the afternoon. We also want to assure you that Victory Raceway walk in guests will not be anywhere near the campers area. We are in a large building and space where social distancing is easily obtainable. All staff members, guests and campers are required to wear face masks.