Virtual Reality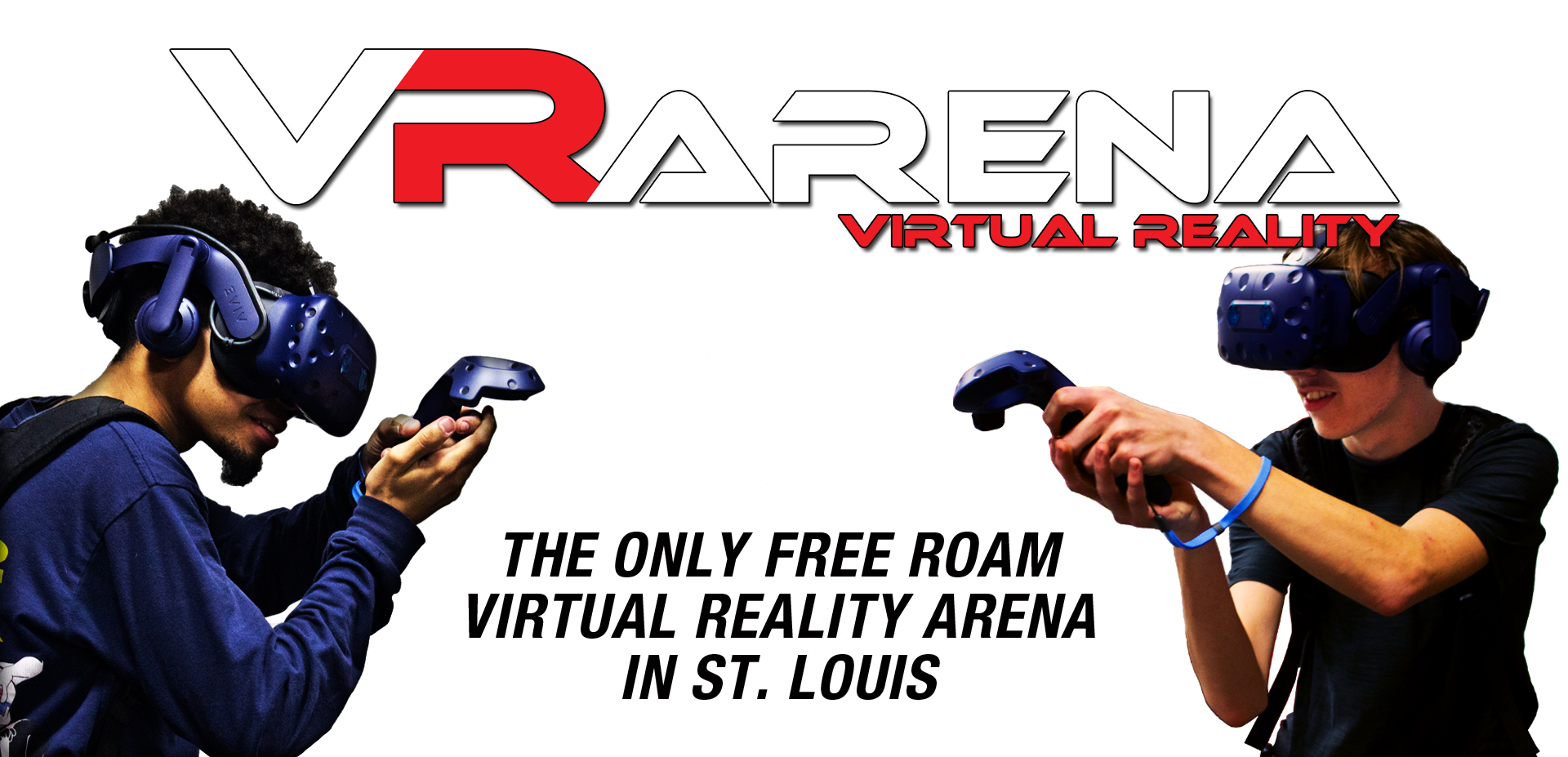 Enjoy the newest development in Arcade Gaming – Virtual Reality. Victory Raceway's VRArena is the only free roam virtual reality arena in St. Louis! Challenge your friends to an out of this world battle in a truly immersive virtual reality experience that will leave you questioning what is, and is not, real. Playing a video game while sitting next to your friends is one thing but transporting into another reality with them playing that same game is a whole other experience.
GAMES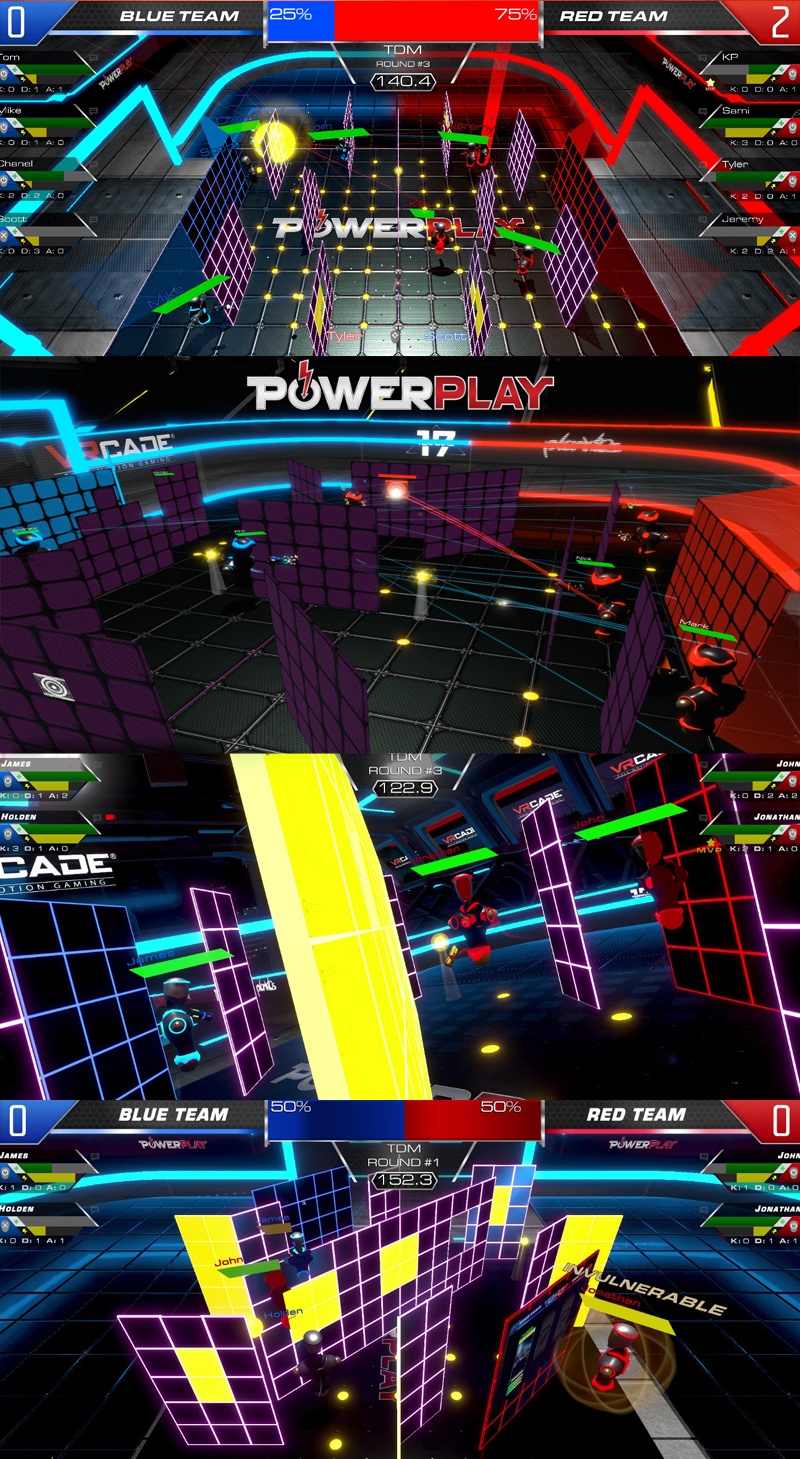 VRcade PowerPlay
Compete in the ultimate Sport of the Future! Experience the world's first truly athletic eSport in an immersive player-on-player/team-based experience. This is the evolution of laser tag in VR! 3 Different game modes to choose from.


Target Capture: Players need to shoot the targets until they turn your team's color. Once claimed, the target will begin gaining points over time for your team. You can see their location and current color through walls, but explosions won't work on them.
Territory Control: Stand in the capture zones for 5 seconds to capture the territory for your team. To steal the enemy's territory, stand in their capture zone for 5 seconds to make it neutral and another 5 seconds to claim it for your team. Once claimed, the territory will begin gaining points over time for your team.
Team Deactivation Match: Try to knock out your robot avatar opponents more than they knock you out. When you knock out an opponent, you gain 5 points for your team and they lose 5 points for their team. 3 different game modes
Players must be 13+ years old.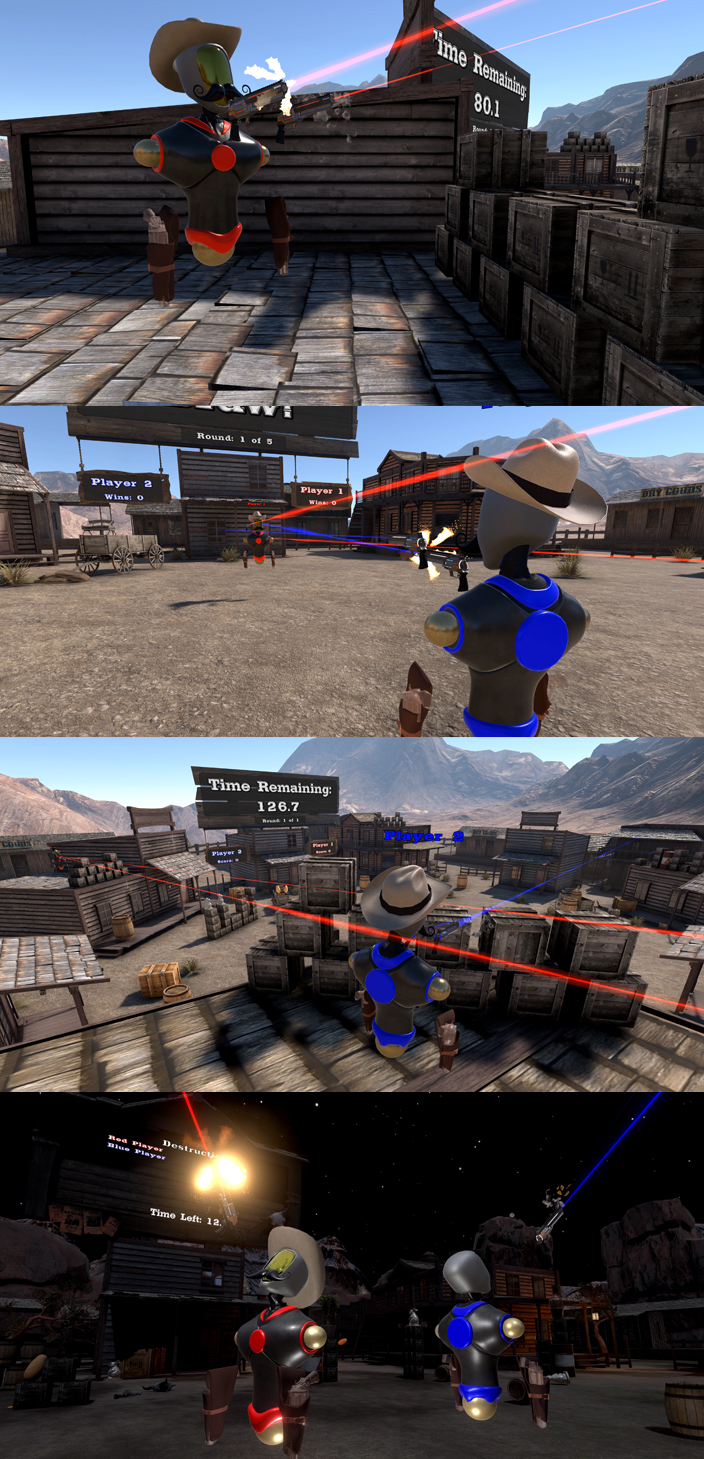 Barking Irons Gunslinger:
Step into a Wild West town and face off against your friends in the ultimate VR showdown! Players will compete in three different game modes to see who has the fastest hands in the West. 3 Different game modes to choose from.


Destruction: Destruction mode is an exciting skeet-shooting competition where players test their skills on destructible objects flying around the town. Objects are worth different points based on their difficulty to hit.
Draw: Draw mode features quick draw duel rounds (face-to-face duel to see who can draw and shoot their pistol faster) with no hiding and no cover. You will walk to particular spots around the town and will have to keep your controllers in your holsters until you hear "Draw". As soon as you hear Draw, you can move your controllers away from the holsters and try to fire on your opponents as quickly as possible. Last player standing wins the round!
Shootout: Shootout mode is a fast-paced search & destroy engagement where you will be teleported to various parts of the town (protected by an assortment of cover) and need to locate and take down your opponents before you are eliminated. If you are hit, you will teleport automatically to a new position around the square and be right back in the action. Whoever gets the most eliminations wins the round.
Players must be 13+ years old.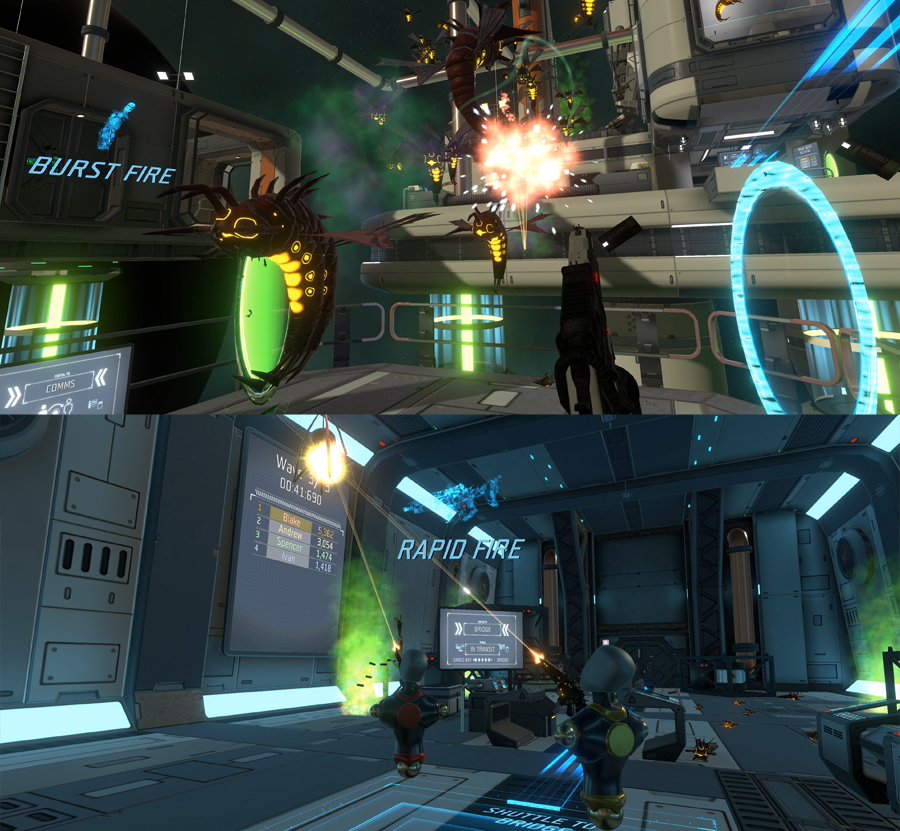 Terminal 17: Mission Critical
You and your friends will experience intense alien bug blasting action as a member of an extermination squad tasked with finding and eliminating relentless alien bugs that are swarming an orbital space station. Are YOU up to the task?
Players must be 13+ years old.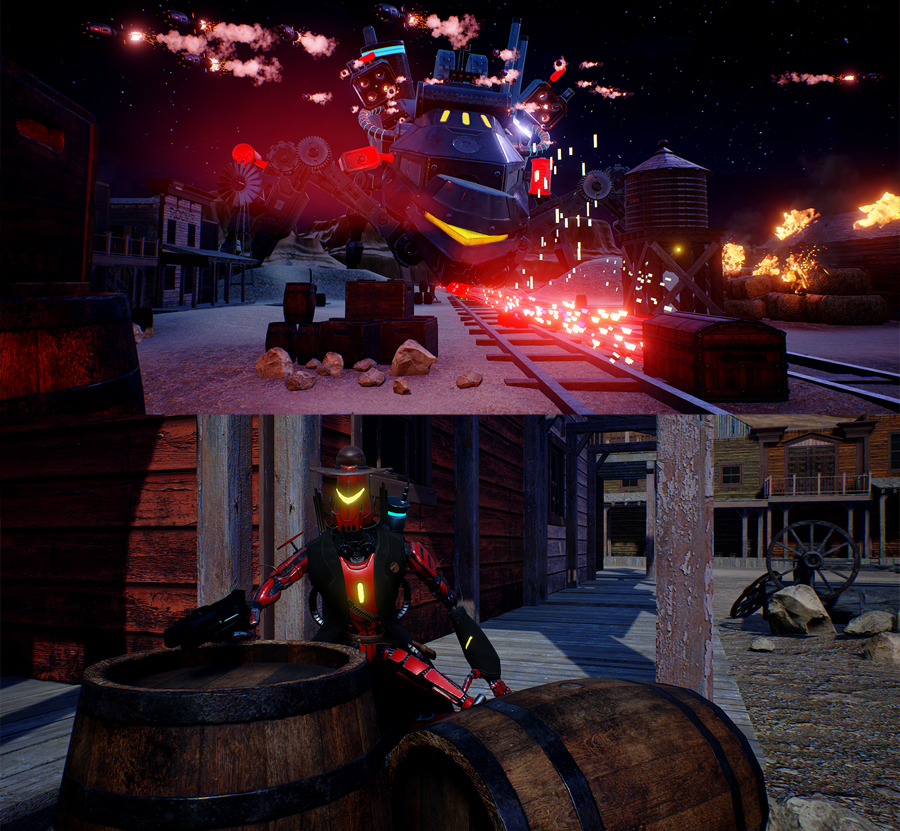 VR Showdown in Ghost Town
Defend the Wild West Town from swarms of attacking robots! You and your friends will encounter intense gameplay, various action-packed story elements, and other surprises and twists!
Players must be 13+ years old.
Rules:
When in game, players shall not horseplay, purposefully damage equipment, leave their designated play area, or enter another players' play area.
Games must be played consecutively.
Food, Drinks, Candy/Gum are NOT permitted into the VR area.
No Running or Jumping.
No Flash Photography.
An age requirement of 13 years old must be met to play.
All players must have closed toed shoes on.
All guests are required to sign a safety waiver.
Warnings:
Virtual Reality Gaming offers a thrilling, intense experience, which may not be for everyone. It is recommended that you do not play if you have any of the following conditions: epilepsy/seizures, recent surgeries or illnesses, heart conditions, neck/back/bone conditions, pregnancy, high blood pressure or aneurysms, or under the influence of drugs or alcohol are not recommended to play.